Sentara Leigh Clinical Trial
World's Largest Clinical Trial on the Impact of Biocidal Surfaces on HAIs
Reveals Significant Reductions in MDROs and C. difficile
---
"We are… going to need new treatments, new aides, new processes to reduce the opportunity for infection, and this, to me, is the beginning of a new wave of products to solve those problems."
Dr. Gene H. Burke, MD Vice President and Executive Medical Director for Clinical Effectiveness, Sentara
"It's easy math. And it's much, much more than finance. It's about the culture, and the commitment of the company, to make it so that we don't harm our patients."
Dr. Terry Gilliland, MD
Senior Vice President and Chief Medical Officer of Sentara Healthcare
"Each one of those avoided infections is going to get patients out of the hospital quicker, potentially could avoid a readmission, which hurts us on the Medicare side, and all of this is not even discussing the impact on the patient."
Robert Broermann
Senior Vice President and Chief Financial Officer,Sentara
"

Sentara is pleased to become the first large-scale deployment of these advanced antimicrobial materials. Over the years, Sentara has implemented many advanced practices in an effort to minimize hospital-acquired infections (HAIs) at our facilities and we believe that new technologies, such as the Cupron-enhanced materials, have the potential to create another layer of protection in this very important effort.

"

– Gene Burke, MD,
Vice President of Clinical
Effectiveness for Sentara
Today, we have the opportunity to bring all these topics together into probably our most important post to date: We are finally able to announce that the clinical trial testing the efficacy of EOScu Preventive | Biocidal Surfaces and copper-infused linens resulted in statistically significant reductions in hospital-associated infections (HAIs).
Click Here to Read More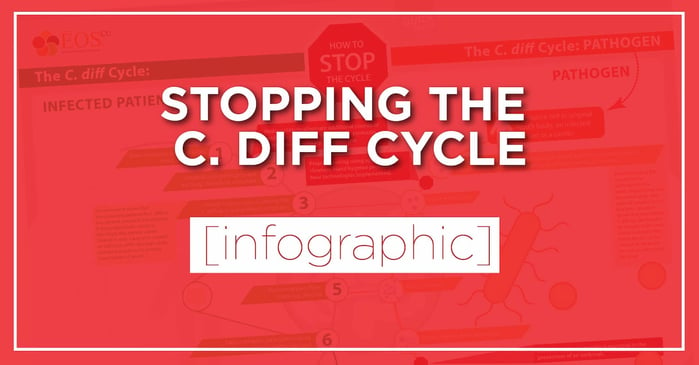 In our series on Clostridium difficile, we explored the bacteria that causes this lethal hospital-acquired infection, the resulting infectious disease, and the outlook for treatment and prevention. We are now offering this one-page infographic that presents the highlights of this series on one shareable page.
Click Here to Read More
Evaluating the Clinical Benefits of EOScu
EOS Surfaces and Cupron joined with Sentara Healthcare to evaluate the clinical and economic effectiveness of installing EOScu Preventive|Biocidal surfaces and antimicrobial  textiles in a range of healthcare environments.
The Trial
Committed to combating the spread of pathogens that contribute to healthcare infections, EOScu Preventive|Biocidal Surface™ and Cupron-enhanced textiles are being evaluated at multiple sites. The study will assess the improvement of patient outcomes and reduction of healthcare costs.
This comprehensive trial is the world's largest known hospital evaluation of biocidal materials to date.
The location
The trial started in April 2014 at Sentara Norfolk, and will be followed by a large-scale study taking place at Sentara Leigh Hospital in Norfolk, VA.
The large-scale Trial includes:
The installation of more than 15,000 horizontal square feet of patent-pending EOScu Preventive|Biocidal surfaces

Preventive|Biocidal 

hard surfaces installed on virtually all clinical and patient-room surfaces, including over bed tables and bed rails
Anti-odor textiles manufactured by the Encompass Group are used for patient bed linens, patient gowns, and other textiles
See the EOScu difference
Request a sample today